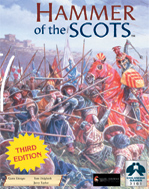 Columbia Games,
boardgame publisher has an interesting marketing campaign selling their popular, Hammer of the Scots for a $.99 trial. That and free priority shipping. Nice.
It will be interesting to see if this works.
I also like them sharing a video review - nice to see what games look like and basics on how to play.