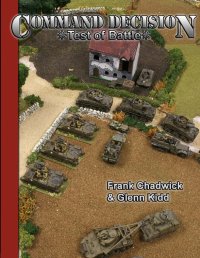 From Test of Battle Site
Wanted to post these pics of a Command Decision
game I had today with a good group of guys from the
Big Muddy Historical Gaming Alliance
.
Actually, not all of them belong to the group, but you get the point.
The battle centered around the Moselle. Learn more here at the
80th Infantry Division website
. Most of us commanded units of the
317th Infantry Regiment
.
My responsibility was to cover the town of
Bezaumon
t, a small town in France. Yeah, my Battalion, once attacked pretty much scooted out of town as I failed Morale check after morale check. In fact, most of my battalion didn't die, we just left the field of battle! It was one of the most pivotal turns in the battle. The Germans would've had a heck of time getting possession of that town with my guys "dug in" fighting till the end. But obviously, it wasn't to be.
Here's a link to the photo album. I hope to put a video up soon as well.